Summer is on it's way, let Seura entertain outdoors!


PRODUCT FEATURE
Ultra Bright™ Outdoor TV
As warmer weather closes in and we see more hours of daylight than dark, you're probably spending more of your waking hours outdoors. Now, because of our innovation, you'll never miss your favorite show, golf tournament, or game when the weather is too beautiful to resist.
Séura's Ultra Bright Outdoor TVs offer an impressively clear picture, even in sunlight. They're able to withstand temperatures up to 140° F and are integrated with innovative, reflective side panels that create a visual illusion of floating. So soak up the rays and relax. This summer will be a game changer.
Carefully calibrated to optimize brightness and contrast throughout the day, Ultra Bright TVs are equipped with our proprietary Adaptive Picture Technology™, which adjusts multiple picture settings as the lighting conditions change throughout the day. They have advanced HDR and 4K UHD capabilities, which means four times the resolution of regular HD. To top it off, Séura Ultra Bright leads the outdoor TV display market with a screen that's 55 percent brighter than previous designs and 30 percent brighter than the competition.
When it comes to sound, you want the best. And you need it when competing with the sounds of nature, traffic, and kids playing. You have the power to choose your audio options, but our 60-watt Outdoor Soundbar is almost three times more powerful than the competition's TV-powered speakers. It offers powerful carbon fiber woofers and titanium tweeters to deliver an unforgettable audio experience.
Ultra Bright Outdoor TVs come in 49-, 55-, 65-, and 86-inch displays — the largest in the industry. Order yours today!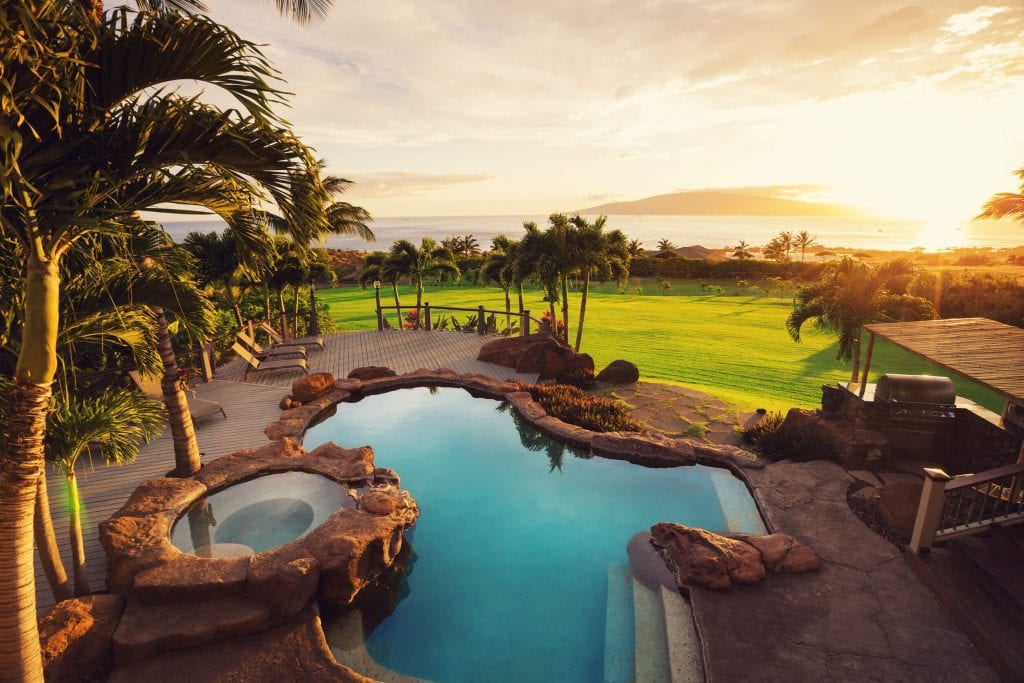 INSPIRATION
Backyard Pool and Spa Designs
No matter its size, your back yard can be the ideal setting for enjoying a summer afternoon or romantic evening. Adding a custom pool and spa to the mix is one great way to maximize your outdoor time, but it's important to incorporate safety measures if your pool could be accessed by children. Whether you're starting from scratch or thinking about an overhaul, these ideas are guaranteed to have you calling your local contractor.
The Pool
If you live on a hill or large slope, consider an infinity pool and spa. You'll feel like you're swimming off into the sunset — or at least like you're sitting on the edge of a cliff.

For the days when you might want to lounge but not submerge yourself, we recommend adding an ankle-deep ledge with built-in or moveable lounge chairs. It's the ultimate way to relax and stay cool.

You're going to need shade, and you also need a place to hang your Séura Outdoor TV. If you're into the modern look, we love this dramatic pool house and cantilevered overhang.
Playing it Safe
With pool and spa ownership comes the responsibility to keep others safe. Before you dive in, please consider the following tips and information.
Teach kids to swim. It's the tip that makes the most sense, and it's the simplest. Learning to swim isn't just about passing time and keeping cool — it's a lifesaving skill.

Designate a water watcher. When children are swimming they should be supervised, and the person watching them should be focused on the water — not on a book or phone. If several adults are present, work in shifts.

Install barriers and fences. Know the rules of your municipality, and realize pool safety is important even if you don't have kids. Fences and safety nets are your best bet, and you don't have to skimp on style.